Men
What do our clients think?
based on
32
reviews.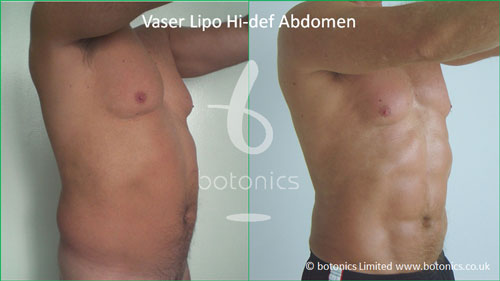 A large proportion of our Vaser Lipo Liposelection clients are men, with the most popular areas being the chest (see Gynecomastia section below), abdomen, lower back (love handles) and neck/jawline. The client pictured above had Vaser Lipo hi-def. If you want to learn more about Vaser Lipo Liposelection, please read through our comprehensive Frequently Asked Questions section.
Treatable Areas – Men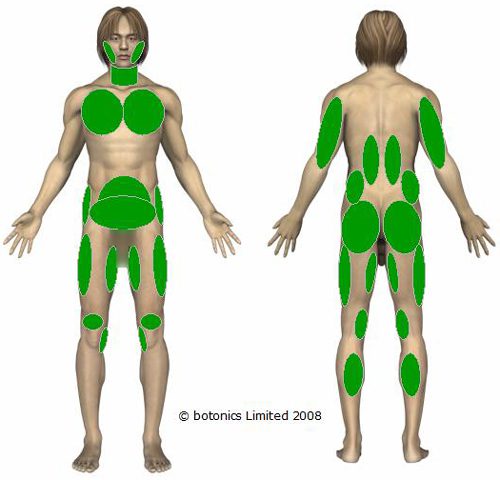 Treatment of Gynecomastia (aka Man Boobs)
Clients who suffer from gynecomastia sometimes wait years before seeking treatment, often going to extraordinary lengths to mask their condition from others. Before Vaser Lipo Liposelection, the only options involved painful, risky and expensive surgery.
Treatment of gynecomastia with traditional liposuction requires a general anaesthetic, is painful, requires several weeks of downtime and usually leaves a scar. The client is often left with irregularities and a noticeable ridge between the treated and untreated areas. In some cases, gynecomastia can be successfully treated with Vaser Lipo Liposelection rather than resorting to more invasive procedures.
Vaser Lipo Liposelection for gyne is permanent, safe, virtually painless, takes less than two hours and most clients can return to work the next day. It is done under a local anaesthetic and a fine, ultrasonic probe is used to emulsify the fat, so risks of complications are minimal compared to surgical alternatives. There is very little risk of scarring and support garments need only be worn for about two weeks.
The results are consistently smooth and natural-looking. Since Vaser Lipo Liposelection works at the cellular level, there is a smooth transition between the areas that are treated and the surrounding areas. The result is a normal, natural-looking chest – which is what everyone deserves!
A Vaser Lipo Liposelection treatment for gyne typically costs £2,800 and Financing is available.
To determine whether your gynecomastia is likely to be treatable with Vaser Lipo Liposelection, all you need do is attend a consultation with your botonics surgeon. Your individual condition and likelihood of success will be thoroughly assessed free of charge.
Why Choose botonics for Your Vaser Liposelection Procedure?
Plastic Surgeon: Your Vaser Lipo Liposelection procedure in London is done by a highly experienced Plastic Surgeon, not a cosmetic doctor or general practitioner. The standard of skill required to become a Plastic Surgeon is clearly significantly higher, and this translates into the best possible results for our clients.
Vaser Lipo Specialists: We were we among the very first to begin offering the new generation of body contouring with Smart Lipo in 2006 and Vaser in 2009, and it has been a speciality of ours ever since. As a result, our surgeons have treated thousands of clients and as a botonics client, you benefit from our vast experience.
Latest Technology: We always invest in the latest technology, which gets the best result with the least discomfort for our clients. Having used virtually everybody contouring machine on the market, we are now offering treatment using the VASER (Vibration Amplification of Sound Energy at Resonance) Lipo system. This technology is able to remove more fat and do it quicker than previous technologies.
No Salesmen: When you have a consultation with botonics, it is always with the surgeon that will do your procedure, not a 'client coordinator' or another salesman. We know your time is precious, and that you do not need to be sold.
Harley Street: Our Vaser Lipo Liposelection procedures are done in Harley Street, arguably the most prestigious and sophisticated private medical location in the world.
Financing: In these tough economic times, we offer a no-hassle finance plan that lets you spread the cost of your Vaser Lipo Liposelection procedure over several months with a charge to your debit or credit card.
Discrete, Personal Service: Even though we do a large number of procedures, you'll always be treated as an individual and your personal needs will be respected. Some clients prefer to maintain discretion about their procedure from work colleagues, friends and even partners. We understand and respect your right to privacy and discretion.
All-Inclusive Pricing: We firmly believe in transparent, all-inclusive pricing. That's why all of our prices are disclosed on our website and are fully inclusive of all consultations, procedures, anaesthetic, support garments, aftercare, taxes and charges. We understand that you have more to worry about after your procedure than annoying extra charges.
Reputable Company: botonics has specialised in medical aesthetic procedures since 2005. We're widely covered in the media and have grown via word-of-mouth referrals from our satisfied clients. All our doctors are full-time aesthetic practitioners, not cosmetic hobbyists.
Honest, Ethical Advice: In the under-regulated UK medical aesthetic industry, it's hard to know whom to trust. We believe that putting the best interests of the client first is not only ethically correct but also commercially the best approach in the long term. So you can be sure that we'll only treat you if we believe we can get you a great result.

Summary of treatment
Procedure time
Anaesthetic
Hospital stay
Sensitivity period
Back to work
Full recovery
Duration of results
Risks & Complications
Infection, bleeding, bruising, swelling, asymmetry.