Fat Transfer
What do our clients think?
based on
5
reviews.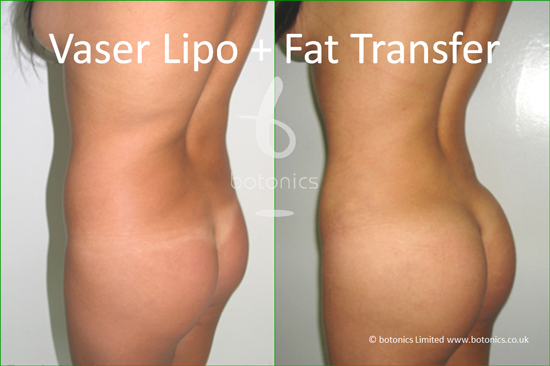 A fat transfer procedure involves harvesting fat from your own body and injecting it to augment such areas as the breasts and buttocks. When done properly, the results are very natural looking and can result in quite dramatic changes because the procedure includes removing fat from unwanted areas (e.g. abdomen, love handles, thighs) making them smaller, at the same time as increasing the size of breasts and buttocks.
Fat transfer procedures are available in the UK from botonics at our prestigious Harley Street clinic, in the heart of London's private medical district.
Advantages of Fat Transfer
No implants: Because the augmentation is achieved using your own fat cells, there is no implant required. This avoid the risks and complications of implants such as rupture, capsular contracture (hardening), infection, rotation, etc.
Autologous material: Because the fat is autologous (i.e. derived from your own body) there is no chance of rejection or allergic reaction to the material as there can be with other substances such as silicone or hyaluronic acid fillers.
Permanent enhancement: Once the fat has been transferred, it will remain in place effectively for the rest of your life. There is no need to undergo another procedure, such as implant removal/replacement which is recommended every 10 years.
Dramatic change: Most of our fat transfer clients remove fat from their abdomen, love handles and thighs. Because you are making the mid-section a few centimetres smaller and the buttocks and/or breasts a few centimetres larger, the overall change is quite dramatic.
Disadvantages of Fat Transfer
Limited size increase: There is a limit to how much larger we can make the buttocks or breasts to ensure the body can safely cope with the procedure. The body needs to build a new blood supply to the transferred fat, and if too much is transferred, it will simply die and be reabsorbed by the body. For breasts, this means about half to a full cup size increase.
Some re-absorption: It is normal for the body to reabsorb the transferred fat cells that have been damaged in the harvesting and transfer process. For this reason, we over inject the cells initially so that the surviving cells achieve the preferred augmentation. Using the latest technology Vaser Lipo to harvest fat cells means they have the highest viability and survival rate ever possible, resulting in better augmentations than has ever previously been possible.
Cost of two procedures: To achieve a fat transfer procedure requires us to perform two procedures. The first is the fat harvesting using Vaser Lipo. The second is the fat transfer itself. If you planned to have both a fat removal procedure and an implant procedure, the cost of a fat transfer will work out cheaper (because there is no implant cost). However, fat harvesting/transfer together can be more expensive than a simple implant procedure.
You must have fat to harvest: The most common reason we are not able to accept clients for fat transfer procedures is a lack of harvestable fat. You need to have sufficient pinchable fat from one or more areas to make the procedures worthwhile.
The Fat Transfer Procedure
At your free consultation, the specialist will review your detailed medical history, physically examine the areas to be treated, give you an opinion and answer any questions you may have. You will then be encouraged to go away and consider the risks and benefits of the procedure. Should you wish to proceed, we will book your procedure at the next convenient opportunity (lead times are about 3 weeks).
Most Vaser Lipo/fat transfer procedures are done under a local anaesthetic as a day case. For larger procedures, sedation or a general anaesthetic may be required. We first harvest the fat from the target areas using Vaser Lipo. It is then prepared for injection into breasts, buttocks, etc. Unlike old technology, the fat harvested required very little preparation for transfer. Vaser Lipo is unique in that it separates the fat from the body using ultrasonic sound waves. This gentle vibration has the convenient side effect of removing fat cells with very little trauma, making them much more viable for transfer. Although fat transfer as a concept has been around for decades, it is experiencing a resurgence now because of the improved results using Vaser Lipo harvested fat cells.
The autologous fat cells are then transferred to the target area(s) via injection. Depending on the number of areas of Vaser and transfer, local anaesthetic procedures can be completed in less than a couple of hours. When you're feeling well enough, you're helped into your support garment, discharged and on your way home.
An important part of the procedure is your lymphatic after sessions which will start the day after your procedure and take place daily for 3 – 10 days post procedure. These sessions allow us to maximise the benefits of the procedure, aspirate any residual lysate (liquified fat and anaesthetic), and spot any early signs of complications. You'll be back to see your surgeon a few weeks and then again a few months post procedure.
How much does fat transfer cost?
A fat transfer procedure consists of two surgeries performed at the same time. The first surgery is the harvesting of the fat using Vaser Lipo. The cost of that surgery depends on the number of areas from which we harvest the fat, and the anaesthetic. Please follow this link for a full list of Vaser Lipo prices.
The second surgery is the fat transfer (e.g. to buttocks). The cost of a fat transfer procedure depends on the number of areas to which the fat is transferred. The buttocks together are one area, the breasts together are one area.
We usually need to harvest fat from at least two areas to have sufficient material to justify a transfer, so prices for both surgeries will start from about £5,400 (e.g. £3,400 for two area Vaser under local anaesthetic + £2,000 for transfer). The surgeon usually recommends that fat transfer procedures be done under a general anaesthetic.
Why botonics?
botonics has been leaders in innovative fat removal and transfer procedures since 2005. We maintain the highest standards of clinical care and customer service which is why we've been officially the UK's highest rated and most trusted plastic surgery group since 2011 as independently rated by Trustpilot.
Our fat transfer procedures are undertaken in state of the art theatres inspected and approved by the Care Quality Commission. Our surgeons are amongst the most skilled and experienced in the UK.
Our price for fat transfer procedures starts from just £1,500 (excludes fat harvesting).
Contact us to book a free consultation with our fat transfer specialist.
Specialist – Dr Maurino Joffily
Dr Maurino Joffily is a consultant plastic surgeon from last 22 years. Having trained and gained experience in the cosmetic surgery market Dr Joffily is now one of the worlds most renowned and sought after experts in plastic and reconstructive surgery.

You may also be interested in
Related treatments

Summary of treatment
Procedure time
Anaesthetic
Hospital stay
Sensitivity period
Back to work
Full recovery
Duration of results
Risks & Complications
Infection, bleeding, bruising, swelling, asymmetry, reabsorption of transferred fat.