Men
What do our clients think?
based on
5
reviews.

Wrinkles due to work stress, scars left from teenage acne, pigmented skin from too many sunny holidays and male pattern baldness are all conditions that can be safely and naturally improved using Collagen Induction Therapy (CIT). CIT, also known as medical needling, stimulates the skin to regenerate and repair itself creating smoother, brighter, healthier, younger-looking skin. Clinical depth dermapen treatments are available in the UK from botonics at our prestigous Harley Street clinic, in the heart of London's premier private medical community.
Collagen induction therapy can significantly improve the appearance of:
Facial lines and wrinkles
Acne, surgical, trauma and other scars
Aged and sun damaged skin
Male pattern baldness when used in conjunction with Mesotherapy
Pigmented skin
Skin radiance
Large pores
About Medical Needling Treatment
Saying goodbye to such skin complaints is easier than ever thanks to this exciting non-surgical skin regeneration therapy available at botonics. Dermapen treatment uses tiny micro-medical needles to create controlled trauma thereby harnessing the body's innate ability to re-grow and repair the skin as a response to micro-damage. This encourages regeneration and repair, leaving you with smoother, brighter, healthier, younger looking skin.
Dermapen Therapy offers amazing results without the inconvenient 'down time' that comes with more aggressive Laser treatments and medium and deep Chemical Peels. That means you can get back to work and play looking your best all the quicker. Because the process never involves heat or thermal energy, does not use harsh chemicals or cause unnecessary trauma, the skin heals quickly, requiring virtually no downtime.
Medical needling stimulates the skin to regenerate and repair itself without adding foreign substances to the body or taking anything away. Dermapen Therapy is a natural process which has an excellent safety profile when used by the trained cosmetic dermatology specialists at botonics.
Due to its notable safety profile, collagen induction therapy is suitable for use on darker skins and for use during the summer months when other treatments are more risky due to the increased UV sensitivity they can induce.
Clinical depth medical needling improves all types of scars including acne, surgical, trauma and others. Deeper treatment is required in order to successfully break down larger clumps of collagen predominantly found in scars. Treatment also promotes the proliferation of normal collagen to replace broken down scar tissue.
Dermapen Versus Dermaroller
Dermaroller is basically a small rolling pin covered in needles. It was an effective first generation method of delivering micro-trauma, but has some significant disadvantages relative to the latest technology available – the Dermapen 3. During a derma roller treatment, the roller is rolled across the skin, leaving behind a trail of microscopic punctures. While the needle roller is effective, the rolling action of the device causes the needles to enter and exit the skin at an angle, creating lateral epidermal tears. The tearing is due to the simple mechanics of angular needle entry. Whilst not detrimental to the results, this makes the treatment much more painful, and often causes a longer downtime for the patient.
The Dermapen's needles enter the skin at a 90 degree angle, eliminating the pain and epidermal tearing associated with dermal rollers.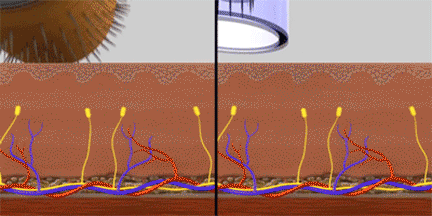 The Dermapen has a smaller surface area allowing it to be used around tight area such as the eyes, nose and upper lip. The depths are fully adjustable allowing a more accurate method of treatment rather than the 'variable pressure' technique often used with Dermarollers. Most importantly, the Dermapen can deliver treatment at least 4 times faster than a Dermaroller, which means much less uncomfortable time on the treatment couch for clients.
Most Advanced Technology Available
At botonics, we prefer to use the latest and best available technology for all our treatments and procedures. Accordingly, we are one of the first clinics in the UK to make available the latest Dermapen 3, the most advanced medical needling device available.

The Dermapen 3 features 12 needle points in each of its tips and a stronger, smoother, more robust motor capable of delivering nearly 110 revolutions per second at it highest setting. The depth of penetration is fully adjustable between 0 to 2.5 mm to accommodate any region of the body and face. The superior AOVN technology of the Dermapen 3 allows for smooth, drag-less operation and optimal results.
botonics for Collagen Induction Therapy
We're Dermapen specialists, having been leaders in the plastic surgery market since 2005. Consultations are free, and evening appointments are available in Harley Street for your convenience.
Our prices for Dermapen therapy start from just £400.
Candidates for Dermapen Therapy
If you're tired of looking less than your best then take action and fight back. A small investment of your time for a free, discrete and no obligation consultation can help you decide if a Dermapen treatment is the solution you're searching for to look your best at work and play. Click on the Contact us link below to book a free consultation with our medical needling specialist.
You may also be interested in
Related treatments

Summary of treatment
Procedure time
Anaesthetic
Sensitivity period
Back to work
Full recovery
Duration of results
Risks & Complications
Infection, extreme redness, swelling.