What do our clients think? Average 5 out of 5 based on 537 reviewsRead all reviews
So, for those of you that don't know, we are basically the A Team from botonics. Hi!
I'm Naruschka. So, if you're joining us for the first time, then welcome. It's great to have you here with us today. We know this is a really difficult time for everyone out there. That many of you have a lot on your mind and that you are sadly at home having to try to stay well and avoid becoming sick and perhaps looking after loved ones. I'd like to say a big thank you as well while we're here on the topic of health all those amazing key workers out there. Absolutely. Really, really taking huge risks and working ever so hard, often around the clock to keep everything going for us to get us through. To wonderful health care, looking after things that we don't even know about. All sorts of infrastructures out there that need to keep going while we are all in our homes. So, very excited actually to be able to discuss something with you that came to our attention very recently. It's a product that I think you'll all find very, very helpful in this time when health and hygiene are of such great concern to us. When you're dealing with a virus obviously hygiene is absolutely everything. The problem is, these are things you can't see, so we need to know that we have the right tools that are reliable and able to do the job in the most efficient possible way. So, the thing I want to talk to you about is this product here called Thoclor, or Thoclor, you can pronounce it either way. Anyway, the miraculous thing about this is actually, this is a spray that you can spray onto your face, into your eyes and your airways, so that's your nose and your mouth and you can also disinfect your hands with it too. That's quite something, actually its only yea big so actually you can put this inside your coat. Handbag size. Absolutely, this can go inside your handbag. You can keep it anywhere around the house or all around the house. It's kind of a multifunctional tool. I mean even though we're at home, many of house are having to venture out, and get out there and so certain jobs, whether that's, you know, collecting food or necessities for your family, or medicines. You know, it means that you may come into contact with other people. In fact, it is quite highly likely you will come into contact with other people. This is why we really, really desperately want to share this with you.
Yes, so this is something that is normally used in a clinical environment to prep and clean the skin before and maintenance afterwards to reduce the risk of any viruses or bacteria entering the body. So it's mainly a clinical product but the interesting thing about it is that it is perfectly safe to use in the body. So its, its actually derived from white blood cells that are present within the body and it's one of the most potent virucidals available in the market and it kills viruses including the coronavirus in 5 seconds.
That's pretty impressive. So what makes this so useful and so impressive is that this is actually 80 - 100 times more effective than bleach. Except, unlike bleach, this can actually be used very safely on human skin. Its actually designed to be used on human skin. It even has the same pH as human skin so its accepted very, very well into our skin because it has other functions. It doesn't just kill pathogens, it also rejuvenates your skin too. So it has these multifunctions that actually will do us a lot of good. So whilst we're disinfecting our skin, we're not drying it leaving it sore and vulnerable and cracked. Actually, what we're doing is we're maintaining the health and hydration and functionality of our skin at the same time. So you can use it as many times as you need to without worrying that you may cause your skin any harm at all or compromise it in the long term. Unlike when you use alcohol gels and traditional hand sanitisers. Okay, so something else I want to tell you is this product holds the highest FDA classification possible. Its safe to use during pregnancy, so its safe for all vulnerable peoples. All people of age groups including babies. We recommend that you use this on the hands as well as the face and in the mouth and if you feel actually your eyes have been compromised, you can spray this in the eyes. Okay. So this spray actually does kill pathogens but the one we are most interested in at the moment is the coronavirus.
Well, that's all from us. Thank you.
If you're interested get in touch and we can issue a private prescription and we have limited stocks so contact us by telephone or email. Details are on the website. Stay safe.
For more information, see our page on Thoclor
To discuss if any of these treatments might be suitable for you, kindly contact us and we will be delighted to organise a free consultation for you.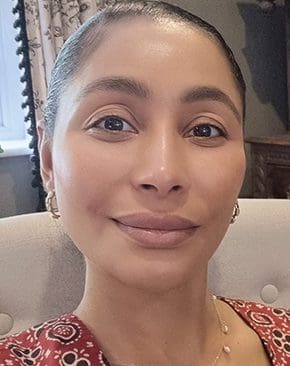 Naruschka Henriques
RN, INP, Head of Cosmetic Dermatology
Find out more about Naruschka