Men
What do our clients think?
based on
7
reviews.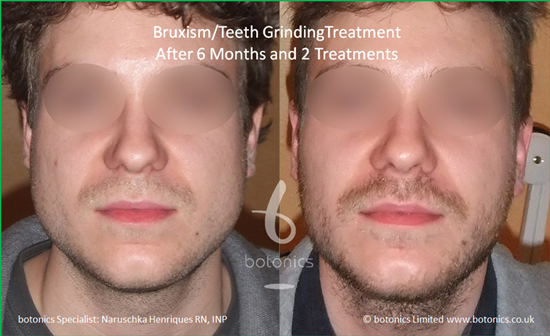 Do job pressures and other life stress cause you to grind your teeth? We have a safe and simple solution to this common problem that causes excessively wide, jaw muscles and irreversible wear on teeth. Prevalence of teeth grinding is very common, with many people doing it without knowing, during sleep. Excessive teeth grinding can cause over-development of the masseter (jaw) muscles, making your face appear unattractively wide and square.
Habitual grinding can sap your energy and be a source of additional stress, turning it into a catch-22 situation, as stress is a major contributor to teeth grinding.
Teeth grinding and jaw reduction treatment is available in the UK from botonics at our prestigious Harley Street clinic, in the heart of London's private medical district.
A masseter reduction Botox* treatment is an advanced treatment, and needs to be done by an expert to reduce the risk of complications such as chewing weakness and produce a natural looking result. At botonics, we have developed techniques that produce a reliable and attractive result with minimal discomfort and risks.
Jaw reduction treatment with Botox* takes several treatments in order atrophy the masseter muscle. It is popular with clients who feel they have a 'fat face' even though the rest of their face or body is slim. It is also popular with our male-to-female transgender clients to help feminise the jawline.
Indications for Non-Surgical Jaw Reduction Treatment
Warn teeth: A sure sign that you grind your teeth is excessive wear on your molars. Ask your dentist at your next check-up if they feel you suffer from bruxism.
Wide jaw: The excessive grinding over-develops the masseter (jaw) muscle, resulting in a square, wide jaw. This can have the affect of making you look overweight or have a 'fat face'. A wide jaw could be a result of bruxism, and can be improved with a Botox* treatment to the masseter muscles.
Headaches: People who grind in their sleep often awake with headaches, and/or muscle pain in the jaw, temples and neck. This could be a sign of bruxism, and can be alleviated by Botox* treatment.
The Male Jaw Reduction Treatment
At your free consultation, the expert will review your detailed medical history and advise whether a masseter jaw reduction treatment is appropriate for you. Most people are keen to have their treatment as soon as possible but there is never any obligation proceed if you do not wish to.
The treatment works by relaxing some of the masseter muscles, which causes them to atrophy (shrink) with time. A course of treatment will take several visits spaced some weeks apart, depending on the severity of your bruxism and affected muscles. We only use the gold-standard Botox* brand from Allergan to ensure the best possible results. Rather than using the cheaper (and more painful!) insulin needles, at botonics injections are done using ultra-fine needles specially ordered to minimise discomfort and bruising. A series of small injections will be made to the masseter muscle and the whole visit will take only 30 minutes.
It takes several months before the masseter muscles will get visibly smaller, and treatment will need to be maintained over time (although treatment frequency tends to reduce with time as the muscles continue to atrophy).
To learn more, see our Frequently Asked Questions. If you want to know what you'll need to do after your treatment, see our Aftercare Instructions.
botonics for Male Jaw Reduction Treatment
We use only brand-name, gold standard Botox* as manufactured and approved for use in the UK. Beware of cut-price treatments that use generic botulinum toxins from India or China.
Our treatments are administered by qualified medical specialists who are experienced in Cosmetic Dermatology treatments and legally authorised to prescribe medications to you.
Our price for Jaw Reduction treatments start from just £700 for a course of 2 treatments, and you can spread the cost of any treatment over £600, interest free, for up to three months.
Candidates for Male Teeth Grinding Treatment
Who is a candidate for jaw reduction treatment? If you're unhappy with worn teeth, headaches and a wide jaw, take action. A small investment of your time for a free, discrete and no obligation consultation can help you decide if a Bruxism treatment is the solution you're searching for to look and feel your best.
Contact us to book a free consultation with our Bruxism expert.
You may also be interested in
Related treatments
* Botox is a Prescription Only Medicine and is one treatment option that may or may not be prescribed to you following a thorough medical consultation. Prices for Botox treatment are indicative and include both the issuing of a prescription and administration of the medicine.

Summary of treatment
Procedure time
Anaesthetic
Sensitivity period
Back to work
Full recovery
Duration of results
Risks & Complications
Infection, bruising, swelling.